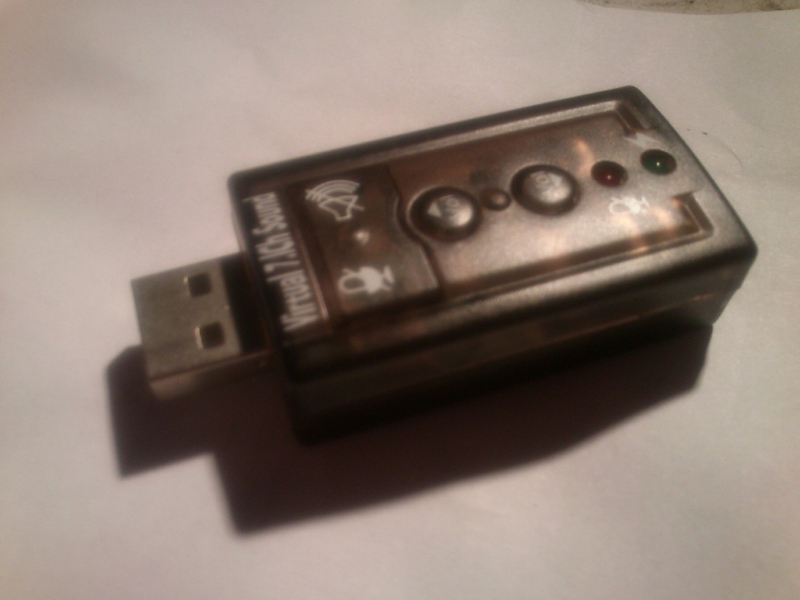 Für ganze 6 Euro ist mir diese kleine, praktische USB-Soundkarte in die Hände gefallen. Sie besitzt eine Micbuchse, eine Speakerbuchse und einen Lautstärkeregler. Mit ihrer Hilfe kann man jedem Rechner sofort eine Soundkarte spendieren. Praktisch zum Beispiel temporär auf Servern um VoiP zu nutzen, oder um Sound auf einem Rechner zu haben, dessen Soundkarte Probleme macht.
Der Klang ist natürlich nicht berauschend, aber das echte Plug and Play ist problemlos.
Sie läuft direkt Out Of The Box nach dem Einstecken unter Ubuntu 12.04. Im Pulseaudiomixer taucht sie als "Audio Adapter Analog Stereo" auf und kann dort geregelt werden.

#/var/log/syslog

Aug  4 18:55:22 ww kernel: [ 4629.448058] usb 5-2: new full-speed USB device number 7 using ohci_hcd
Aug  4 18:55:22 ww mtp-probe: checking bus 5, device 7: "/sys/devices/pci0000:00/0000:00:13.0/usb5/5-2"
Aug  4 18:55:22 ww mtp-probe: bus: 5, device: 7 was not an MTP device
Aug  4 18:55:22 ww kernel: [ 4629.638832] input: C-Media USB Headphone Set   as /devices/pci0000:00/0000:00:13.0/usb5/5-2/5-2:1.3/input/input16
Aug  4 18:55:22 ww kernel: [ 4629.639006] generic-usb 0003:0D8C:000C.0009: input,hidraw2: USB HID v1.00 Device [C-Media USB Headphone Set  ] on usb-0000:00:13.0-2/input3